Dear Hak-sun, how are you doing in heaven now?

On August 14, 1991, South Korea's Kim Hak-sun testified that "I was a 'Comfort Woman' for the Japanese military." As I read that article in the newspaper, I lamented, "Ah, indeed", remembering what a former member of the Japanese Army who participated in the war in China had said about 20 years ago: "There should never be a war. War turns men into devils. Soldiers rape or gang rape women or children found on battlefields, and then throw them away into ponds or rivers when they are no longer needed, although I have never done it."
From here
On May 4, 1994, when it was less than three years after Kim Hak-sun gave her testimony, Japan's Minister of Justice Nagano Shigeto overturned the Kono Statement by stating that the Pacific War was not a war of aggression and that Japanese military 'comfort women' was licensed prostitution. This prompted 15 South Korean victims of Japanese military 'comfort women' and their families to come to Japan to denounce the Japanese government's attitude and demand a sincere apology along with compensation. I tried to help those who visited Japan, and this was the beginning of my relationship with the victims of Japanese military 'comfort women'.


I remember what Kim Hak-sun said during a testimony rally in Saitama Prefecture in early October 1994.
"Japanese have two mouths. One mouth utters an apology while the other claims ''comfort women' went to Japan to earn money'. It is a weird country."
 "I thought Japan was a country of the great economic power, but, after visiting the country a few times, I realize Japanese people are not that rich."
 "Regardless, I still demand an apology and compensation from the Japanese government."


At the time of the rally in the National Assembly, Kim Hak-sun sat in front of the National Assembly Member's Office Building, looking small yet dignified, and even graceful. From that moment on, I often made international calls to her to ask how she was doing or to tell her how things were going.

On January 11, 1997, seven victims were paid the Asian Women's Fund in privacy for the first time in South Korea. Even in Japan, it was highly controversial between the pros and cons regarding the Asian Women's Fund, and I myself was feeling defeated at the limits of the civil movement, which after all this time, could only produce such a mediocre result. Lee Yong-soo later called me on several occasions and told me, "Kim Hak-sun is angry, so please come and see her." Around March, I, along with Kim Bok-sun and Lee Yong-soo, paid a visit to Kim Hak-sun's house as she was sick at the time. As soon as Hak-sun saw me, she scolded me by saying, "Why did both sides fail to produce sensible results?" I had no choice but to reply, "I'm afraid you're absolutely right. I'm sorry." Hak-sun's shoulders heaved laboriously as she struggled to breathe. She added, "Look, Moon Ok-ju died, Kang Duk-kyung died, and soon, it will be my turn." I replied "Please don't say that. You should stay healthy until you are 100, 200 years old."

I brought Castella, Nescafé Gold Blend, and pickled green plums as gifts for Hak-sun. She said, "I don't drink coffee, but I love pickled green plums." A total of five people, including myself, Kim Hak-sun, Kim Bok-sun, and Lee Yong-soo, cooked and ate dinner while loudly chattering with each other at Hak-sun's house. Hak-sun and Bok-sun talked until late at night. We all slept with our clothes on and without any blankets. The next day, with Hak-sun's seeing us out, Kim Bok-sun, Lee Yong-soo, and I left her house.

Upon hearing that Hak-sun was hospitalized when I visited South Korea again in June, I visited her at the hospital along with Kim Bok-sun. As Hak-sun had previously told me how much she adored pickled green plums, I brought her pickled green plums flavored with dried bonito flakes, a perilla plant, and more. Hak-sun was lying in bed with a respirator attached to her. She nodded when I asked her, "Do you feel comfortable wearing that?". I wonder how many of the pickled green plums I brought her she got to eat... I went to visit her again along with Kim Bok-sun when I returned to South Korea in August, but I did not get to see her. I was told that, 'people from her church moved her to a hospital in Seoul'. I became worried when I later heard that her condition was deteriorating, but I never had the chance to return to South Korea again at the time.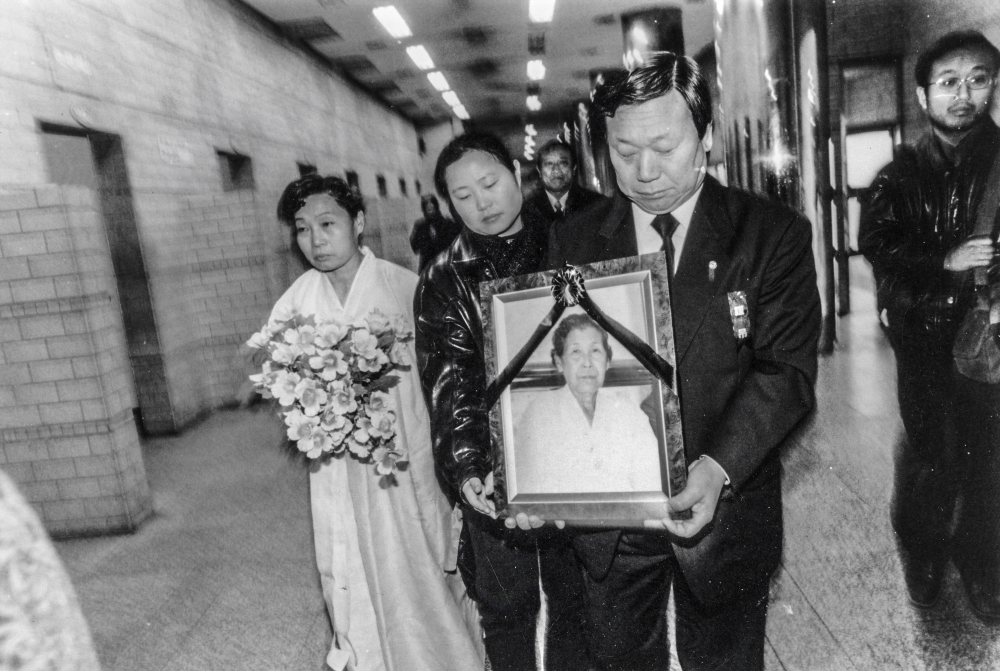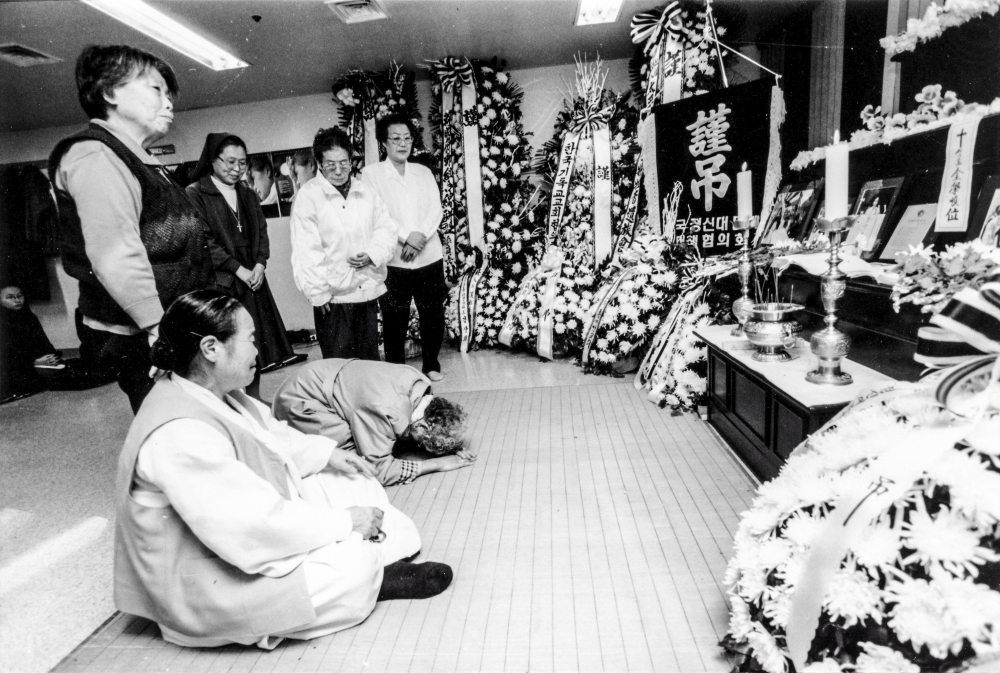 On December 16, I received the news of Hak-sun's passing. I bought a flight ticket and flew to South Korea the next morning. I first went to Kim Bok-sun's house on the day I arrived in South Korea, and then went to Hak-sun's funeral the next day at the Asan Medical Center, along with Kim Bok-sun, Moon Pil-gi, Kim Yun-sim, and Kim Eun-rye. Other surviving victims who were already there were crying with their heads lowered and their bodies crouched down. For them, Hak-sun must have been the leader and the big sister they could rely on. I felt tearful as my heart filled with pain while watching their disappointment.

The morning after the funeral, the bus carrying Hak-sun stopped off at the Wednesday Demonstration in front of the Japanese Embassy and then headed for the crematorium. On the bus, I was able to read the pocket book that Hak-sun used to keep with her. It read, 'Nobukawa came from Japan,' but I did not visit her on that particular day, so I thought, 'Did she mistake me for someone else? Or was she waiting for me to come?'

The bus carrying Hak-sun, who was reduced to bone fragments, headed for the 'National Mang-Hyang Cemetery' in Cheonan. Hak-sun was buried in the cemetery she had prepared before she died. People covered the grave with shovels of dirt full of their own memories of her. The sun was already setting by the time the bus headed back to Seoul after dinner. I and Lee Yong-soo got off at a moderately busy street and searched for budget accommodation to stay overnight together. That long three-day journey was my farewell to Hak-sun.

Afterwards, a memorial service was held in Tokyo, where many people, including Kim Soon-deok, reminisced and honored Hak-sun's bravery and kindness. Also, the first anniversary event was held a year later at the National Mang-Hyang Cemetery, where attendants from Japan also paid tribute to Hak-sun.
 
Hak-sun, how are you doing in heaven now?
It must be noisy there as you are resting with many sisters.
You may not feel so lonely,
as Hwang Geum-ju is next to you,
Your close friend Kim Bok-sun is with you,
Kang Soon-ae is also with you,
So are Bae Jok-gan …
and Park Bok-soon.

I will also meet you again one day.
Until that day.... Goodbye.
Writer Nobukawa Mitsuko (信川美津子)

시민운동가. 1994년, 소송을 위해 일본을 찾은 '위안부' 피해자 15명과 유족들에게 숙소를 제공했다. 당시 가와사키의 아사다 교회와 여성센터가 숙소를 제공했고, 평소 일본군 '위안부' 문제에 관심이 있던 노부카와도 본인 집으로 할머니들을 모셨다. 며칠만 도움을 드리자고 생각했던 노부카와는 결국, 할머니들과 함께 집회장과 총리 관저 앞에 나갔고, '위안부' 문제를 온몸으로 배웠다. 노부카와는 1995년 뜻을 같이하는 친구 30여 명과 함께 '할머니들과 함께 걷는 모임-조각보'를 결성하고, 1998년 모임이 해체될 때까지 수십여 차례에 걸쳐 일본 대도시의 학교 등에서 피해자들의 증언을 듣는 집회를 열었다. 이후 '위안부문제해결 올(all) 연대 네트워크' 활동 및 개인활동을 이어가며 매년 적어도 두 번 이상 한국을 찾아 '위안부' 피해 생존자들을 직접 만나며, 인연을 이어가고 있다.